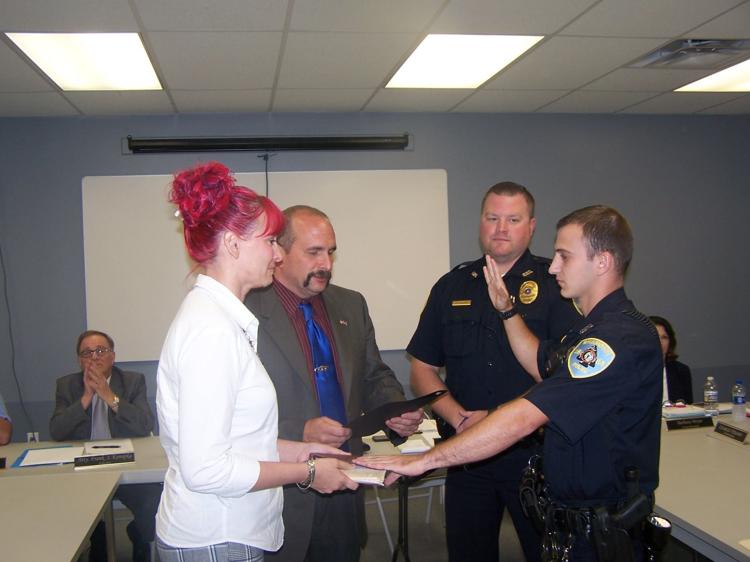 SHAMOKIN — Complaints about trash, citizens being overtaxed and allowing Anthracite Outdoor Adventure Area (AOAA) riders to operate in the city highlighted Monday's meeting of Shamokin City Council.
Council members also accepted the resignation of code enforcement officer Rick Bozza, effective July 19. Bozza, who served in the position since Aug. 23, 2011, has accepted another position.
Bozza didn't attend Monday's meeting, but informed council via a letter last week that he planned to resign.
No comments were made about Bozza's service to the city after Mayor John Brown and council members Charlie Verano, Barbara Moyer, Scott Roughton and Dan McGaw accepted his resignation.
Council agreed to advertise for a full-time code officer.
As he did last month, former councilman Gerald Bogetti complained about trash throughout the city causing a serious health issue.
During a tour of several wards in the city, Bogetti said he noticed trash ordinance violations, including garbage bags thrown on sidewalks, broken garbage cans and cans without lids, and junk stored on front porches for a long time.
Bogetti also complained about the high percentage of delinquent property taxes owed to the city and residents being forced to pay an additional 5 mills in property taxes every year.
Former councilman Raymond Gerald Splane also expressed displeasure with tax millage increases and claimed citizens have been paying an illegal millage increase for almost 30 years.
Shamokin resident Bill Miller said he has safety and noise concerns about AOAA riders traveling city streets, which he claims is illegal. He said city officials should "think twice" about allowing the riders to travel the streets on special dates.
Later in the meeting, the AOAA was unanimously granted permission to use pre-approved designated streets in the city for rides on Aug. 10, Sept. 21, Oct. 26 and Nov. 9.
Joey Leschinskie agreed with Miller and said council only caters to certain businesses by allowing special AOAA events within the city.
Leschinskie also complained about trash being rampant in the city, including properties next to his home at 520-522 E. Pine St. that he said contain 3 1/2 feet of garbage.
Landlord Robert Gilligbauer questioned why intruders caught "red-handed" breaking into three of his properties have not been arrested.
John Bucanelli, an engineer with KPI Technology, which is the Community Development Block Grant engineer for the city, discussed work done on the wading pool at the Lawton Shroyer Memorial Swimming Pool to make it handicapped accessible.
Bucanelli told council landscaping work will be completed at the pool and rebar sticking out of the ground that holds up a fence at the pool will be removed to eliminate a potential hazard.
Council awarded a street paving contract totaling $128,364.40 to New Enterprise Stone and Lime, of Winfield.
Other bids were received from M&J Excavation Inc., of Bloomsburg, ($146,563.85) and Glenn Hawbaker Inc., of Montoursville, ($225,517).
Council granted permission to VNA Health System to hold its annual butterfly release at Claude Kehler Community Park at 1 p.m. Sunday, Aug. 18.
Northumberland County Council for the Arts and Humanities was authorized to hold a duck drop at 2 p.m. Sunday, July 21, at the Liberty Street bridge near Rescue Fire Co.
Christian and Missionary Church was granted permission to hold a kids festival Saturday, Aug. 10, at Claude Kehler Community Park.
Council authorized National Night Out to be held at the community park Tuesday, Aug. 6, starting at 5 p.m.
McGaw, director of parks and public buildings, said the Shamokin Area Lions Club will hold a summer block party at Claude Kehler Community Park from 4 to 11 p.m. Friday with music by R.A.T.L. at 7:30 p.m., and from noon to 11 p.m. Saturday with music by Lunasea at 7:30 p.m.
He said the event will raise funds to repair and restore playgrounds and equipment.
Prior to the meeting, council presented certificates of achievement to the top five honor students from Shamokin Area and Our Lady of Lourdes Regional high schools.
Top students from Lourdes include Frances Czeponis, Melissa (Huong) Nguyen, Jared Stewart, Madison Margaret Mengel and Thomas Schultz.
Top students from Shamokin Area are Marshall Buggy, Abigail Nye, Robert Rebuck, Spencer Balonis and Lauren Wagner.
At the beginning of the meeting, a moment of silence was held for former longtime city police officer Vince Stefanowicz, who passed away Monday morning.