H&R Block celebrates 50 yrs. in Shamokin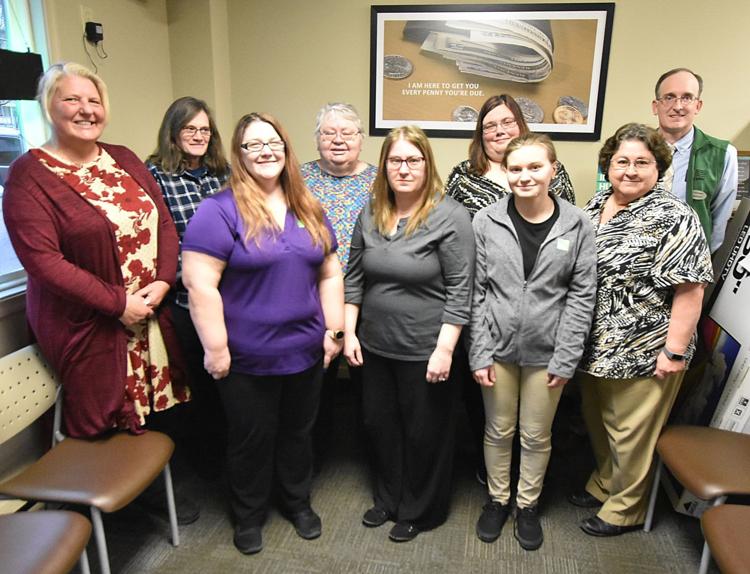 SHAMOKIN — H&R Block is celebrating its 50th anniversary as a business in the Shamokin community. Located at 24 S. Market St., H&R Block, which is known for its income tax preparation and financial planning services, also offers a full range of financial services, including stocks, bonds, loan and refund advances, bookkeeping, payroll services, investments like 401k rollovers, IRAs, mutual funds and most financial services that people would need or ask for.
Lamont Masser, who is a partner and owner of the Shamokin H&R Block franchise, spoke of the longevity of his business in the local community and its significance.
"The business was originally started by Chester and Ann Gard, of Kulpmont, back in 1970," Masser recalled. "I think their first office was located on East Independence Street. From there, they moved around a little bit. They relocated to Spurzheim Street and from there to West Independence Street before finally settling in here for the past 40 years."
Local roots
Masser, whose family has agricultural roots, began working for the Gards in 1992.
"My father and most of my family are involved with agriculture. We had a family farm over in the Mahantongo Valley and in 1991 he decided that we needed to learn how to prepare our own taxes. At the time, I was volunteered to go take the H&R Block income tax course," Masser said.
"He was having a problem with the firm that was preparing his taxes and he thought we should be able to learn a little bit more about it and do it ourselves. I took the class and Ann Gard was my teacher. When I completed the income tax class with her, I found out they needed some employees at that time, so during the winter months on the farm I began working in the tax office," he recalled.
Masser said that he worked for the Gards for nearly 10 years.
"It was a really good learning experience for me," he said. "Working here in the wintertime and on the farm the rest of the year."
Turning the page
In 1999, when the Gards were ready to retire, they indicated that they still wanted to prepare tax returns but didn't want to deal with the day-to-day necessities involved with running the business.
"That same year, my brother Nolan and I formed a partnership and purchased the business from them. Chester and Ann continued to work with us for a number of years after that until they fully retired. They were very helpful in teaching us more about the business, as well as assisting with the transition," said Masser.
Dedicated staff
The staff at H&R Block consists of many longtime employees, whose commitment to serving customers well has helped build a trusted business relationship over the years in the Shamokin community.
Masser said he appreciates every member of his staff. He believes they are all dedicated and knowledgable employees.
"Our oldest and most experienced employee that we have here is Brenda Reiner, who has been with the office for 42 years," Masser said. "Loretta Snyder has been with us for 34 years, Sue Potts has 26 years here and this is Deb Lesher's 23rd year."
Masser pointed out that those four H&R Block employees alone have a combined total of 125 years' experience working with the same company in the Shamokin office.
"Most of us have a great deal of experience. When you find the right person that fits, they stick with it. Over the years H&R Block has been very good to us as employees. Each year they hold a national convention in the fall, which we're invited to attend and where we get to meet with leaders of the company," he further explained.
Labor of love
When it comes to what he enjoys most about his job, Masser didn't hesitate.
"Helping people out is what I enjoy most about working here," he said. "We tell our customers, if we prepare your tax return, we're here for you all year long. Come back in and see us anytime. There's no charge to ask a question. We'd much rather help someone now, than fix a problem later."
Masser said H&R Block provides "second looks" for people who'd like to know if they could get a better refund on their tax return or want to make certain their final numbers are accurate.
"If we can get them a better refund, we can file an amended return for them," he said.
Online services
Masser said that while customers can build and file a tax return themselves online at https://www.hrblock.com, many have a desire for assistance with specific parts of their return.
"We allow them to upload their documents to a secure server. From there, we can download them here and finish preparing them the rest of the way," he explained.