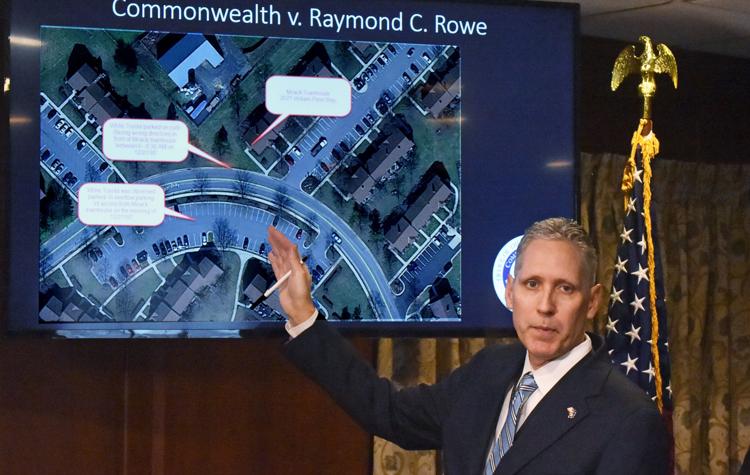 LANCASTER — Raymond Rowe stood before Lancaster County President Judge Dennis E. Reinaker Tuesday morning and admitted he raped, strangled and killed 25-year-old schoolteacher and Coal Township native Christy Mirack in her Greenfield Estates townhouse in East Lampeter Township the morning of Dec. 21, 1992.
The 50-year-old known as "DJ Freez" pleaded guilty to first-degree murder, rape and related counts in exchange for a sentence of life without the possibility of parole with a consecutive prison term of 60 to 120 years.
Standing in Lancaster County court, he turned and apologized to Mirack's family, including her father, Vincent Mirack.
"To the Mirack family, I can't imagine what you're going through. I apologize," Rowe said after turning to face the victim's father, brother and sister, Lancaster Online reported.
Vince Mirack, the victim's brother, told the judge as his father wept, "I spent 25 years watching my family plead for answers. I made a promise to my mom before she passed away to never let this go."
Mirack's sister, Alicia, leaned against her brother as he struggled to contain tears. She spoke of Christy's kind heart, her passion for teaching and her hard work to prepare for her career.
"You took it away with no regard," Mirack said. "I can only hope the remainder of your life is as painful to you as the last 26 years have been without her to my family."
Offered an opportunity to address the court, Mirack's father collapsed in tears into his daughter's arms, saying, "I can't talk. I can't talk," Lancaster Online reported.
Friend's reaction
Annie Candelora Adams, who had spoken with Mirack the evening before the murder, was grateful for Rowe's guilty plea, though the confession left one important question unanswered.
"I still would like to know why? Why her? What did she do to him that was horrible enough that he felt the only option was to take her life," she said during a phone interview with The News-Item Tuesday evening.
Adams met Mirack on their first day as freshman at Our Lady of Lourdes Regional and the two became inseparable friends. They eventually went to different colleges, Adams to Williamsport Area Community College, now known as Pennsylvania College of Technology, and Mirack to Millersville University to fulfill her lifelong dream of becoming a teacher.
"I feel like I can breathe again," Adams said of the guilty plea. "It's been really hard ever since this broke again. I haven't been able to breathe because you don't know what's going to happen. I am just grateful he is going to spend the rest of his life in jail."
Investigation
Mirack was found by a staff member of Rohrerstown Elementary School, where she loved to teach sixth-grade, but had not shown up to work that morning.
Mirack's roommate told police that she left about 7 a.m. for work and that Mirack was still home at that time. Mirack typically left for work about 7:30 a.m., the roommate told police. The roommate also reported that Mirack was getting ready for work that day, as she would any other day.
Two neighbors in the housing community told police they were walking near Mirack's home that morning and heard a high-pitched, unexpected scream from the home between 7:10 and 7:20 a.m.
Lancaster County District Attorney Craig Stedman said Mirack was wearing a coat and gloves, indicating she was leaving for work when she was confronted by Rowe. In describing the fatal attack, he said Mirack fought for her life. A wooden cutting board was used to afflict blunt force trauma to her neck, back, upper chest and face. Her jaw was also fractured and there was evidence of sexual assault.
The death was ruled a homicide, caused by strangulation.
A number of agencies, included East Lampeter Township police, Pennsylvania State Police and the Federal Bureau of Investigation, investigated the case before the Lancaster County detectives, who work under Stedman, took over jurisdiction in 2016.
DNA match
Homicide investigators developed Rowe as a suspect last year only after crime scene DNA matched DNA that one of Rowe's relatives uploaded to a public genealogy database.
Following Rowe's arrest, Stedman discussed DNA evidence that linked Rowe to the murder and the "astronomical" statistics and odds that anyone else, but Rowe, committed the crime. The mammoth numbers had 27 and 30 zeros.
"In other words: It was the defendant," Stedman previously stated. "There are only 7.6 billion people in the world."
Specifically, the DNA evidence was submitted to Parabon NanoLabs and a genotype file was generated. Using this file, Parabon created a DNA phenotype "composite" of the killer's attributes, including hair and eye color and skin tone. The phenotype report included visual composites of what the killer would look like at various ages. That data and associated composites were released to the public in November 2017.
Based on Parabon's recommendation, detectives subsequently authorized Parabon to upload the genotype file to a public, genetic genealogy database, which resulted in matches to relatives of Raymond Rowe. Parabon's genealogical research determined that Rowe was a "strong viable suspect."
On May 31, investigators obtained DNA surreptitiously from Rowe, from chewing gum and a water bottle Rowe used while working as a disc jockey at an event at Smoketown Elementary School.
That DNA was submitted to a state police crime lab. Testing revealed a match between that DNA and DNA found on multiple locations of Mirack's person and on carpet underneath her dead body.
Patricia Spotts, Rowe's defense lawyer, told the judge at Tuesday's hearing that Rowe admitted his guilt and all potential defenses were discussed with Rowe. Spotts also said the defense team researched the legality of the DNA match and its use in the criminal case.
It was determined to be proper, Spotts said.
"He has no expectation of privacy" of his DNA profile in this capacity, Spotts said, according to Lancaster Online.
DA's reaction
Stedman stated during a press conference following the hearing that it was "chilling" and "haunting" that Rowe could compartmentalize the vicious crime and go back to his life "as if nothing had happened." He said the death penalty was warranted in the case, but was comfortable with the life sentence after speaking to Mirack's family and taking the state of the law into consideration. He said the consecutive prison sentences on related felonies ensures he will remain in prison, even if the life without parole provisions would change.
"We fashioned this so he can never get out. And he should never get out," Stedman told reporters.
Stedman said Rowe's white Toyota Celica matched the description of the car that Mirack's neighbors saw parked near her apartment the morning she was killed.
And Rowe in 1992 lived in Lancaster city and worked at ServiceMaster on William Penn Way, just down the street from Mirack's home. The commute would have taken him past her home hundreds of times, perhaps when Mirack and her roommate were sunbathing, Stedman said.
Stedman said police received at least three peeping Tom reports near the apartment in the months before the murder. Mirack and Rowe also could have crossed paths in social circles. A ticket to the Chameleon Club, a Lancaster nightclub where Rowe worked, was found in Mirack's wallet.
But nothing said at the guilty plea hearing or news conference explained why Rowe targeted Mirack.
"This case certainly has riveted our community for so long. It's a result that's long over due, " Stedman said. "What stands out for us, is not only did you have this actually true innocent victim making the community better — teaching kids, taking presents to her kids that day she was brutally sexually assaulted and murdered in her home where you have the right to feel safe. No family should have to endure this."