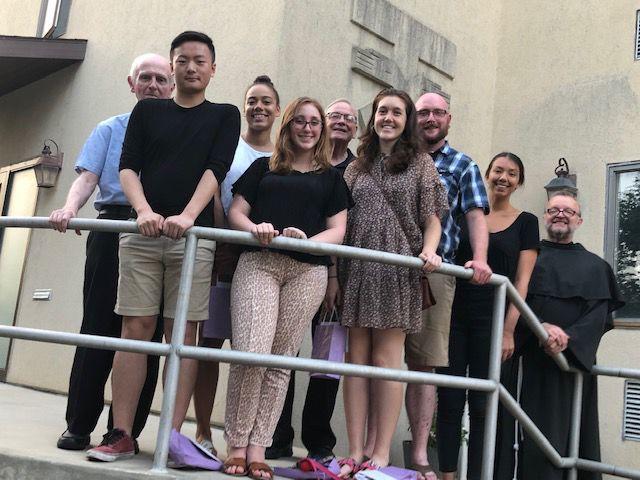 Six skilled, educated and motivated young students converged upon Northumberland County this summer as part of the Shepherd Higher Education Consortium on Poverty (SHECP) program.
The eight-week program pairs students with nonprofit organizations that work to strengthen distressed communities. Students are matched with agencies that fit their intellectual interests in order to develop professional experience and skills for future civic involvement and employment.
Students taking part in the program live with fellow interns within the communities they serve. SHECP covers the expenses of the interns, affording the local organizations the benefit of summer labor at no cost. Housing for this particular group was provided at the Franciscan Center in Coal Township.
Those taking part in the SHECP program dedicated to this area over the summer are Shawn Li, Victoria Yeh, Sean Mack, Elspeth Suber, Olivia Burke and Mariel Edokwe.
Li and Yeh have been stationed at City Hall in Shamokin, each with different objectives.
Li, who was lauded by Mayor John Brown for his strong intellect and attention to detail, aided with the organization of ordinances within Shamokin City Hall.
Li said that he'd likely gone through 20 years worth of documentation during his time here this summer. He also has spent time communicating with those in the local business community while also composing a strategic plan for potential redevelopment.
Li is very worldly, having been born in China, went to high school in Boston and is now studying at the University of Wisconsin.
"I enjoyed working with everyone at city hall and discussing different ways in which to modernize local ordinances," said Li.
Yeh, on the other hand, worked with City Administrator Robert Slaby on a voter outreach program. The 21-year-old student, who studies at Middlebury College in Vermont, had a specific aim in surveying Shamokin residents and potential voters regarding their opinions, concerns and questions regarding Act 47 and Home Rule.
She noted she greatly enjoyed interacting with locals during her time in the city.
"I like meeting new people with different outlooks on life," she said. "These past eight weeks have proved to be very beneficial."
Yeh added that she hoped for an increased awareness and interest in local political issues among those living in Shamokin.
"For things to move forward — people must first participate, whether that means voting or voicing their concerns so that the city can work toward addressing them," she said.
Mack, 25, who hails from Virginia Beach, Virgina, and studies at Berea College in Kentucky, had the opportunity to shadow patrolmen at the Shamokin Police Department.
The primary focus of Mack's internship was to examine the opioid problems of the area. Mack interviewed local physicians and received their opinions on issues such as drug use in the area, as well as medical marijuana and its role in helping patients.
Mack was able to visit Gaudenzia Coal Township in his eight weeks here and he was very impressed with the facility and feels it could really help things out considerably.
"Gaudenzia will likely be a terrific aid in helping curb drug-related issues here," he said.
Mack said he learned a great deal in his time shadowing the officers and strongly commended their daily efforts.
"They have so much on their plate, always hard-working despite being understaffed," he said.
Mack said he has a long-term goal of becoming a pastor/chaplain and that seeing the intense situations the police deal with every day was eye-opening.
Suber, 20, of Tallahassee, Florida, interned at Central Susquehanna Opportunities (CSO) at the Northumberland County Career and Arts Center in Shamokin. Suber is studying at Washington and Lee University in Lexington, Virginia.
Suber's worked with CSO in an effort to expand their marketing and further open eyes to their existence.
"Everyone at CSO works to help families become more self-sufficient," said Suber. "They have established trust with their clients — that through word of mouth, people understand and know that CSO is a safe environment with a strong reputation for helping people."
Suber, who seeks to have a career in community action, shadowed case-workers, volunteered at the local food pantry, helped with local golf tourney, aided CSO in moving to a sister office in Bloomsburg and more.
Her goals in taking part in the SHECP program were to work with a non-profit that cares about their local community. She said that CSO is the embodiment of such a thing.
Burke, 20, of Center College in Kentucky, and Edokwe, 21, of Middlebury College in Vermont, interned at North-Penn Legal Services in Sunbury.
Burke said the experience has been both exciting and rewarding.
She said that interning at North-Penn afforded herself and Edokwe opportunities to sit in on hearings, meet judges and allowed for a firmer reality of the legal system through being right in the mix.
"I definitely sought out working with a law firm in some capacity and the SHECP program and North-Penn has allowed me to have a positive learning experience," Burke said.
Burke added that it was great meeting with and sharing experiences with the other SHECP program interns.
"We all bring different strengths to the table," she said.
SHECP was formally established as a nonprofit organization in July 2012. The curriculum for SHECP begins with gateway coursework at each respective students' home institution, followed by community-focused learning opportunities through the SHECP Summer Internship program.
"Shepherd" honors the philanthropy of Tom and Nancy Shepherd, who are founding benefactors of a prototype of the program that was developed at Washington and Lee University.
The SHECP programs credo is "Learning by Doing" and it was most certainly lived up to by these skilled students who paid our area a visit this last 8 weeks.