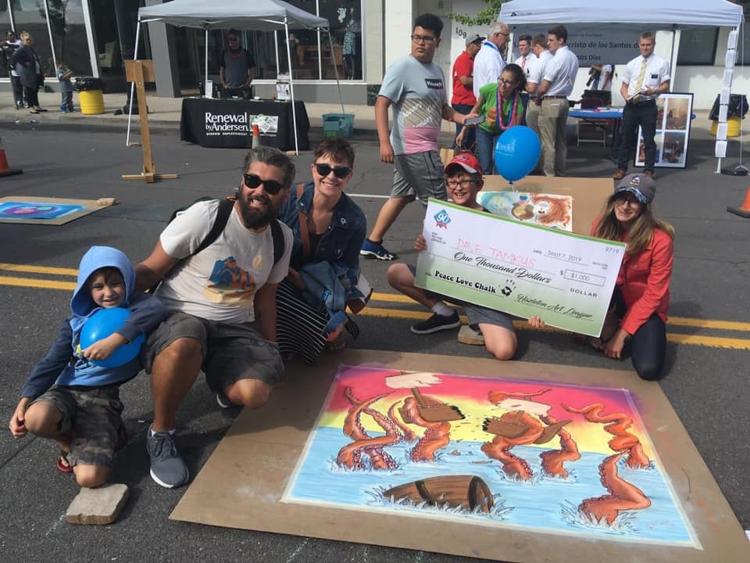 HAZLETON — On Saturday, approximately 20 artists participated in Hazleton Art League's fifth annual Peace Love Chalk Event. Contestants in junior and senior divisions competed for prizes that were made available through Hazleton native and Chicago Cubs manager Joe Maddon's Respect 90 Foundation.
Participants had four hours to complete drawings that did not have to reflect a particular theme. The younger group competed for an iPad and gift cards, while the top three finishers among adults claimed $1,000, $500 and $250 respectively.
Dave Tamkus, of Shamokin, who resides with his wife, Natalie, and two boys, Jack and Jonah, took the top prize with a piece titled "Kraken Attack." The artwork is a fantasy depiction of a kraken, which is a mythical giant octopus-like sea monster destroying a ship.
"I just wanted to do a piece that I was happy with presenting," said Tamkus. "I've never competed in a contest like this before, so I didn't know what to expect. Everyone had such amazing work, I'm sure the judges had a tough time."
As an added bonus, Maddon framed the winning piece and will be displaying it in Chicago. Tamkus was "over the moon" with the fact that it will be traveling half way across the country.
Tamkus said that he's always been drawn to art and appreciated the support of his family during his childhood.
"I can always remember drawing-copying cartoons, making my own characters. I was very fortunate to have a very art-supportive family growing up."
Over the past two years, Tamkus has made a commitment to creating more art.
"I saw an ad for a show at the (arts center) last year and submitted three old pieces that I did. It was at that show that I met Lisa Welch Knecht and she asked me if I wanted to do a show in the winter. I committed on the spot and started cranking out acrylic paintings and drawings," he said.
From there, Tamkus said that he really got the bug for making art.
"My wife got me the coolest Christmas present — a sketchbook from the Brooklyn Art Library. You fill it up and ship it back to Brooklyn. It then travels the country for a year and lives at the library. I really found my voice with that book. It's kind of dark and brooding, existential with a bit of abstract and has carried over to all of my subsequent art."
It was from the recent Americana show at the Northumberland County Career and Arts Center gallery that Knecht introduced Tamkus to Ali and Carl from the Hazleton Art League.
"They told me about this cool contest that they were having and it happened to fit into my schedule," he recalled.
Tentatively, Tamkus is hoping to have a show sometime next year at the Hazleton Art League.
"I can't thank Natalie and my kids enough for their support. I bounce ideas off them and listen to their suggestions," he stated. "The best advice I could give anyone is to not be afraid of failure. Always keep practicing. If you think it doesn't look right, figure out a way to make it better. Also, don't be so hard on yourself. Sometimes you look at your own work too critically."
Tamkus indicated that he'd love to see the arts take off in Shamokin.
"I would love to see the arts take off in Shamokin. We have fantastic artists around the area and we (my family) try to get out to any event that has to do with art. It would be great to have some kind of contest like Hazleton's at one of Shamokin's festivals. One of the best parts was interacting and answering questions from the people watching. "
You can follow Tamkus on Instagram, @Colderevad, and on Facebook, @Colder World Designs.