Zerbe Twp. board officially welcomes new police officer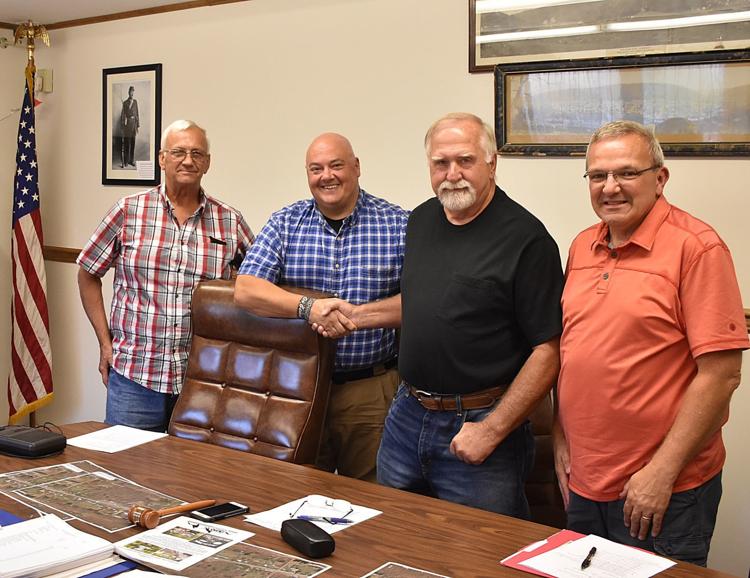 TREVORTON — Zerbe Township supervisors officially welcomed the newest member of the Zerbe Township Police Department at their Monday meeting.
Patrolman Russ Dawson was officially hired as a part-time police officer at an hourly rate of $15.50, following a motion that was unanimously approved by all three supervisors.
"Congratulations, and we want to officially welcome you here," board president Mike Schwartz said to Dawson.
In the absence of Zerbe Township Police Chief Mike Kreischer, Dawson updated the board on the monthly police report, which included a total of 80 calls responded to and 386 patrol miles.
AOAA Fight the Blight Benefit Ride
The supervisors unanimously approved a motion to allow riders from the Anthracite Outdoor Adventure Area (AOAA) to use portions of East Coal Street, Greenwood Street and Sportsmen Park Road to access the Zerbe Rod and Gun Club for the second annual Fight the Blight Benefit Ride to be held Sept. 7. A formal letter of request was submitted to the board by AOAA Director of Operations Dave Porzi, who attended the meeting in person.
The letter, which represented both the AOAA and Housing Authority of Northumberland County (HANC), read: "It is our intent to have our riders come into Zerbe Township to be served lunch at the Zerbe Rod & Gun Club for a one day event."
Last year's Fight the Blight Benefit Ride raised $6,800 for the HANC with nearly 400 riders participating.
Porzi said the AOAA is working on mapping out a 20-mile loop, which would take riders from the trolley line to East Coal Street in Trevorton on part of the AOAA trail system that is not normally utilized. The AOAA will also have volunteers on hand to direct riders where they need to go once they access Coal Street and is requesting help with the road crossing on Route 225.
"We're also looking into the possibility of offering access for Zerbe Township riders to the AOAA park from the trolley line," Porzi said.
Correspondence
In a July 11 letter addressed to the supervisors, PennDOT District 3-0 requested a response as to whether or not the board would allow it to act as the lead agent for bridge inspections using an agreement created in its Engineering and Construction Management System.
Following a brief discussion, Supervisor Mike Mazer voted to allow PennDOT to serve as the lead agent, which was seconded by Bulchie and unanimously approved by all three supervisors in a roll-call vote.
Trevorton Fall Festival
The Trevorton Fall Festival is scheduled to take place at the Trevorton Recreation Area from noon until dusk on Saturday, Oct. 12 with a rain date of Sunday, Oct. 13.
A parade will kick things off at 11 a.m., with live music provided by Memory Lane, and fireworks at dusk.
For participating vendors, it was noted that a setup fee of $20 is due by Sept. 1. The fee increases to $30 if paid after that date, including on the day of the festival.
Electricity will be available and provided as needed and limited inside space is available upon request. Tables and canopies will not be provided. Money will only be refunded if the festival is cancelled both days.
For more information, applicants may call 570-797-1974.
Movie night
Mazer announced that the Zerbe Township Recreation Committee will hold a free movie night at dusk on Friday, which will feature the showing of Disney's "Wonderpark."
Other business
Three paving bids for Coal Street, originally discussed at a July 25 meeting between the supervisors and township clerk, were rejected by the board due to excessive cost and maintenance factors.
The Franklin Street paving project cannot begin until an environmental review study has been completed and approved. The paving project will most likely be finished sometime next spring.
With regard to proposed work on the Eleventh Street Bridge, Schwartz noted, "The county has indicated there are no grants currently available for that project."