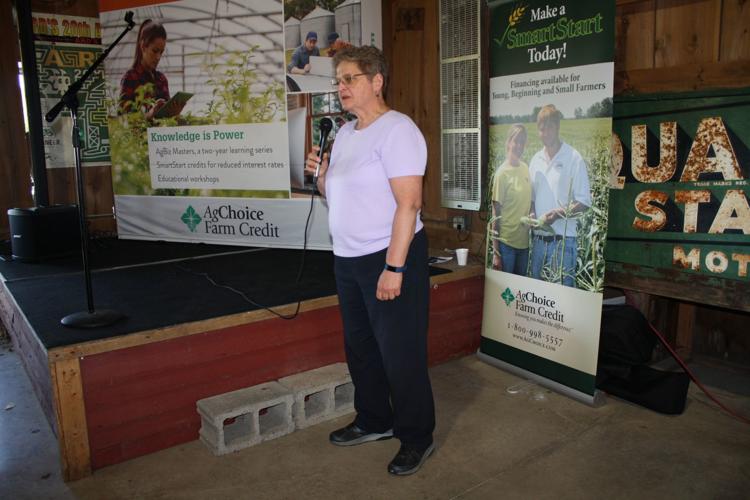 LEWISBURG — A deputy state secretary of agriculture told farm people Thursday night that the recently enacted Pennsylvania budget included a Farm Bill for the commonwealth.
"The House and Senate, Republicans and Democrats, came together to get $23.1 million for Pennsylvania agriculture," said Cheryl Cook, secretary for market development. "Senate programs I hope are going to be helpful to us for years, as we start looking more to the future."
Cook spoke to an AgChoice Farm Credit customer appreciation picnic.
The state Farm Bill, Cook later noted, was a package of almost a dozen different bills addressing agricultural interests.
"The main thing is planning grants," said Cook. "If you've been thinking about diversifying into something other than say, dairy, and you want to know how to 'pencil out' poultry (or) how to look at 'value added' and maybe get into the ice cream business instead of the milk business, this kind of grant money will help you noodle through all that stuff and maybe come up with a plan."
Cook added that the commonwealth was tops in small farmland preservation, covering 600,000 acres. It will help farmers make plans for business, marketing and succession plans for the next generation of farm people.
However, tariffs, subsidies and federal intervention in international trade loomed large to some on hand.
"When they started monkeying around (and) arguing with China, we lost the pig market," said Bob Boyles. "Now we've lost the soybean and corn market."
Boyles farms 400 acres with steers and hogs near Hughesville. He said some farmers could face bankruptcy when the cost of planting a crop exceeds what could be gained from it. Boyles was also skeptical of promotional hooks which encouraged buying local when some farm products are closely tied to other states.
"We're stuck with it until the president changes from Republican to Democrat," he said. "There is too much that we don't know about."
The number of dairy famers in his area, Boyles observed, has gone from more than 20, to one.
"He's worried about making payments," Boyles said. "His wife has to go to work to help meet the payments. That's disgusting. She was always there helping him."
He noted that costs of milk production, about $16.50 per hundredweight, exceed the typical $13 dollars the dairy farmer gets. Going to work for a pipeline company, Boyles said, was understandable.
Meantime, Tom Styer of Muncy, was suspicious that food prices were being kept artificially low.
"Cheap food means the farmer doesn't have money to spend," Styer said. "He can't buy new equipment and the young people can't get into it because they can't afford it."
Styer, with a Muncy area produce farm, grows sweet corn, strawberries and vegetables. A corn subsidy, he said, would only have gotten him $45, and required two trips to Williamsport to get it. Styer said President Trump didn't seem to be for farmers.
Others lamented tariffs on aluminum, which has raised prices for containers used in food service. Large entities, it was observed, were more likely or able to absorb the higher costs than small operations.
Congressman Fred Keller (R-Pa. 12) addressed the gathering. Keller saluted the ag community and noted that picnics and county fairs showcase the commonwealth's top industry.
More than 1,000 people registered for the AgChoice Farm Credit customer appreciation picnic at Ard's Farm. Cook game the Ag Choice model, a member-owned cooperative, a thumbs up for its credit and financial services. They also offer crop insurance, continuing ag education and programs for young farmers.
AgChoice representatives noted that they serve more than 50 Pennsylvania counties and four in West Virginia. It was their seventh customer appreciation event of the summer.