'He didn't deserve to be shot': Mother of murder victim has gone through 'living hell' the past 2 years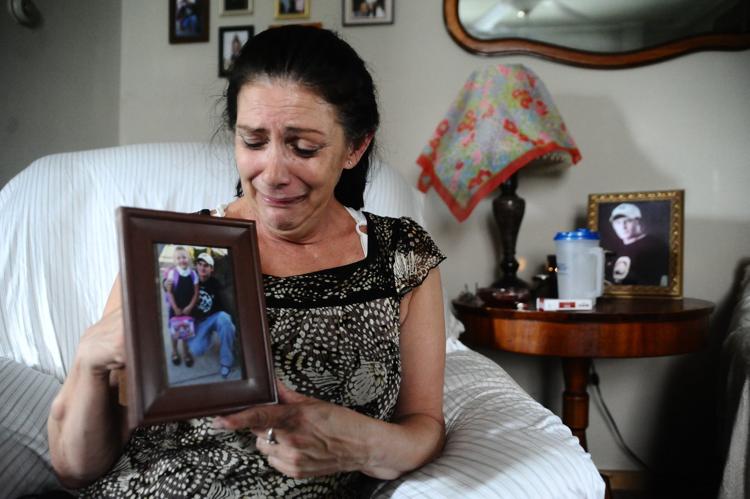 MOUNT CARMEL — The mother of 33-year-old murder victim Sean Maschal, of Mount Carmel, said her life has been a "living hell" since her son was killed two years ago.
During an interview Tuesday afternoon in her home at 428 N. Chestnut St., Catherine Langley said, "My son made some mistakes in his life, but he didn't deserve to be shot. He was a good person and wasn't the person people made him out to be. He fell into the wrong crowd and got addicted to drugs, but he had people who loved and cared about him. I'm having a difficult time dealing with his death. I can't move on because there's nothing that's going to bring him back."
Langley, who suffers from a serious heart condition and was discharged from the hospital Friday, said she wants to see her son's murderer brought to trial and convicted so the two-year-old homicide case can be resolved.
Maschal's 53-year-old mother, a Mount Carmel native, said drugs played a role in her son's death and have wreaked havoc on her own life through the years, which she deeply regrets.
She claimed her son became involved with drugs in high school, which derailed his dream of becoming a skydiving instructor.
"I was pretty quiet about Sean's murder for two years as the investigation took its course," she said. "But with the anniversary of his death coming up Thursday, I wanted to let people know I'm still grieving and how tough it's been to get the proper help I need."
Langley, who broke down crying several times during the interview while recalling her son's life, said she remains upset and angry about Sean's murder. But she doesn't blame the investigators or Northumberland County District Attorney Tony Matulewicz for not bringing the case to trial yet.
"I understand that the police and district attorney are doing their best and want to make sure everything is covered before proceeding to trial," she said. "But it's still been frustrating for me. I just don't want this to happen to anyone else."
When contacted Tuesday night, Matulewicz said, "I spoke to Miss Langley on the phone and in person dozens of times. I feel for her loss and I'm glad she has trust in the legal process."
Langley, who doesn't have medical insurance, still needs money to pay off expenses related to her son's funeral and burial.
Langley said losing her mother and father six and 13 months, respectively, after her son's murder has added to her grief. Her sister, Michelle Marquardt, 46, of Mount Carmel, was seriously injured in a motorcycle accident Aug. 26 in Danville.
Langley has two daughters, Taylor Glassic, 25, of Marion Heights, and Haley Langley, 18, of Freeland; a son, Michael Maschal, 37, of Mount Carmel; and a granddaughter, Nevaeh Madden, 11, who is Sean's daughter.
The trial for Maschal's accused murderer Brian G. Heffner is expected to be held in January.
On Aug. 6, Northumberland County President Judge Charles H. Saylor granted court-appointed defense attorney John McLaughlin's motion to continue the trial from September to give him more time to review new discovery evidence in the case.
On July 15, Saylor issued an order to suppress statements Heffner made to police during two interviews on Oct. 15, 2017, at SCI-Camp Hill.
Heffner, 38, of Coal Township, was arrested by Mount Carmel Township Patrolman Michael Pitcavage on April 12, 2018, on 14 charges, including homicide and robbery.
He is accused of shooting his lifelong friend in the back of the head with a .40-caliber handgun on Sept. 12, 2017, while they were riding in an SUV along Route 901 in Locust Gap with Robert Louis Villari Jr., 32, of Coal Township, and David Matthew Brown, 35, of Ashland.
Villari and Brown have not been charged directly in Maschal's murder.