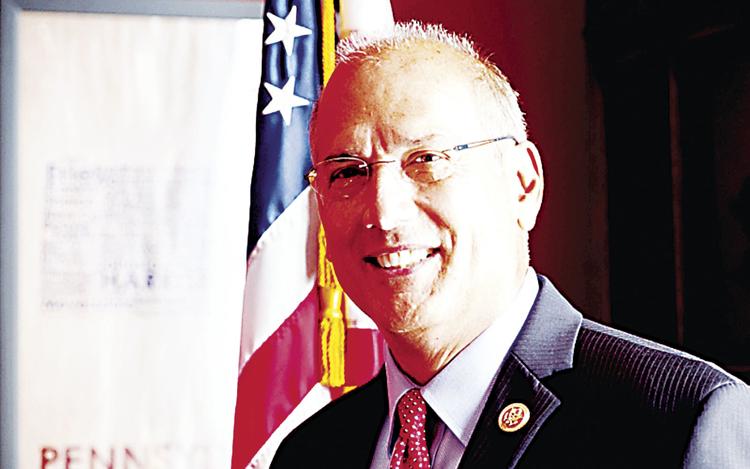 WILLIAMSPORT — While celebrating his win late Tuesday evening over Democratic challenger Mark Friedenberg in the new 12th Congressional District, incumbent Republican Tom Marino expressed concern about the impending shift of power in the House of Representatives.
By 11:30 p.m. Tuesday, with 92 percent of the precincts in the district reporting, Marino had garnered 148,999 votes to Friedenberg's 71,577.
"It looks like it is going to shift (from a Republican to a Democratic House majority)," Marino said. "I am concerned because we are on such a good track."
He listed the economy, border security and low unemployment rates as areas in which he believes the country is currently excelling.
"The Democrats will certainly not look at any Legislation we want to pass," he said. "As a majority in the House, they will be obstructionist and nothing will get done."
He cautioned there could be a price to pay for actions the Democratic Party takes as a result of holding the majority in the House.
"If they intend on (being obstructionists), there will be consequences two years from now (at election time)," Marino said. "People are used to seeing a good economy and jobs."
While Marino is concerned about a Democratic majority controlling the House, he intends to reach out across the aisle in an effort to work with the opposing party.
"I have good relations with my Democratic colleagues," he said. "I have supported some of their legislation and they have supported some of mine.
"I will continue working with those people, hopefully, to continue to make sure the economy keeps growing," Marino continued. "Over the last eight years, I have had legislation passed and signed by two presidents."
With his victory on Tuesday, Marino noted that he will now be entering his ninth year as a member of the House. He intends to only seek re-election one more time.
"I am term-limiting myself out at 12 years," he said. "I am in my eighth year now. At the end of 12, I am stepping down. I will have accomplished everything I hoped I wanted to do."
He remains adamant that elected offices should have term limits.
"The framers of the Constitution never intended it to be a full-time job, let alone a lifetime job," Marino said. "A lot of problems we have in D.C. are caused by people who have been there for too long, on both sides of the aisle.
"Nancy Pelosi once told me I was insignificant because I was newly elected," he continued. "We have to get rid of people like that. They are not serving the interest of the American people."
Marino offered thanks to everyone who supported his re-election bid.
"Obviously, it feels good (to win)," he said. "We are doing something right. I get my legislation passed for my constituents and will continue to do that."
Marino also stressed that everyone in the 12th District can reach out to him at any time, regardless of their party affiliation.
"My door is always open to constituents," he said. "All they have to do is call my office and make an appointment… I do get some of my ideas for legislation from my constituents."